Elizabeth Zuckerman
Ms. Zuckerman is an experienced employment attorney who has settled and litigated employee cases in virtually all areas of the practice. She has also handled numerous appeals involving employee rights issues, including several before the NJ Supreme Court.
Since 2007, Elizabeth has been selected to the Super Lawyers list. (The Super Lawyers list is issued by Thomson Reuters. A description of the selection methodology can be found at www.superlawvers.com/about/selection process detail.html. No aspect of this advertisement has been approved by the Supreme Court of New Jersey.)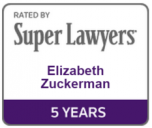 Ms. Zuckerman was born in Orange, New Jersey in 1959. After two years of college at Colorado College, she graduated from the University of Michigan in Ann Arbor, Michigan, with a Bachelor of Arts in English. In 1986, she received her Juris Doctorate from the University of California at Davis School of Law, where she served as Executive Editor of the school's Law Review and published an article, "Second Parent Adoption for Lesbian-Parented Families." She is admitted to practice law in all state courts in New Jersey and in the federal courts for the District of New Jersey, the Third Circuit Court of Appeals, and the U. S. Supreme Court.
From 1986 until 1990, Ms. Zuckerman served as a Deputy Attorney General in the New Jersey Department of Law and Public Safety, providing advice to the Departments of Health and Labor. In 1991, she entered private practice, joining a prominent Princeton firm first as an associate and then as partner. While there, she represented that firm's clients in varied litigations, including suits against employers for sexual harassment, discrimination and wrongful termination.
In 1997, Ms. Zuckerman co-founded Zuckerman & Fisher, L.L.C. with the aim of helping wronged employees who find it difficult or uncomfortable to obtain representation from larger firms, which also provide legal services to corporations and employers. With the firm, she has handled virtually all aspects of employment and discrimination law, including drafting of employment agreements, review of severance packages, negotiation of separation from employment, and trial and appeal of employment litigation. She has tried Mercer County discrimination lawsuits, as well as employment cases throughout New Jersey. In one landmark employment lawsuit, Ms. Zuckerman argued successfully before the New Jersey Supreme Court that under certain circumstances an employer's workers compensation insurance policy should be required to satisfy a monetary judgment of discrimination against the employer. Her argument has had the widely felt impact of making an additional financial resource available to employees discriminated against by employers, a resource without which an employer might be unable to pay for its wrong to the employee.
Ms. Zuckerman's association with the legal profession has extended well beyond representation of firm clients. For three years, at the request of the Chief Justice of the New Jersey Supreme Court, she served as co-chair of that court's Task Force on Gay and Lesbian Concerns. She has lectured and commented frequently on issues and aspects of employment law. She has written articles on employee rights issues. She has served as Vice President and President of the New Jersey chapter of the National Employment Lawyers Association, the country's only professional organization exclusively devoted to the representation of employees in cases involving wrongful termination, discrimination, harassment and retaliation. She is a member of the American, New Jersey and Mercer County Bar Associations.
Discrimination (Age, Race, National Origin, Disability, Sexual Orientation, Gender)
Employment Law for the Employee
Litigation and Appeals
Sexual Harassment
Wrongful Termination
Public Accommodation Discrimination
Failure to Accommodate
Hostile Work Environment
Bar admissions
New Jersey, 1986
U.S. District Court District of New Jersey, 1986
U.S. Court of Appeals 3rd Circuit, 1988
U.S. Supreme Court, 2002
J.D., University of California at Davis School of Law, Davis, California, 1986
University of California at Davis Law Review, Executive Editor, 1985 to 1986
B.A., English, University of Michigan, Ann Arbor, Michigan, 1982
"Second Parent Adoption for Lesbian — Parented Families," 19 U.C. Davis Law Review 729, 1986
New Jersey Supreme Court Task Force on Gay and Lesbian Concerns, Co-Chair, 1997 to 2000
Professional associations and memberships:
Princeton Bar Association
Mercer County Bar Association
New Jersey State Bar Association
American Bar Association
National Employment Lawyers Association, New Jersey
Contact an experienced discrimination lawyer in Mercer County
If you have been subjected to any form of discrimination, harassment, retaliation or wrongful termination in the course of your employment, you need a skilled Mercer County discrimination lawyer advocating for you. Contact the law office of Zuckerman & Fisher, L.L.C. online or at 609.514.0514 to speak with a seasoned discrimination lawyer in Mercer County.
Areas of Practice